I've always been a big proponent of carrying a phone along on a run mostly for safety reasons, especially when I'm out on the trail by myself. Sometimes I'll use it for music, navigating a new route, and for emergencies.
I usually carry my phone in a waist pack. I've never been a big fan of carrying my phone on an armband, but I recently had the opportunity to try out the Ragnar branded Trainer Pro case and armband by Bodyguardz.
Bodyguardz and Ragnar teamed up on this great case and took it on the road with them to various Ragnar road and trail events this past summer.
I took the armband out on a few runs and here are a few of my Pro's and Con's while using it:
Pros:
Sturdy protective case: I've been really impressed with the case. The clear polycarbonate back has the Ragnar logo embossed on it and is rubberized along the outside edge making for a grippy surface all around. There are cutouts for the speakers, charger, sleep/wake button, and silence switch. The volume buttons are rubberized.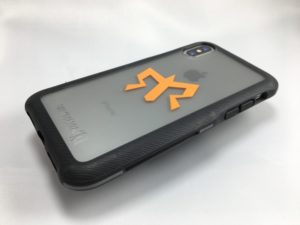 Case comes in multiple colors: Having a clear back cover on the case means you can show off the color of your phone in everyday use. The rubberized grip on the outer edge of the case comes in various colors including navy, gray, and black.
Armband is snug: The armband fits really snug around my arm. The velcro grip that holds the armband in place is rock solid and easy to adjust. It took a couple of tries to thread the band through the grip, but Bodyguardz provides a helpful video on their site on how to thread it properly. The reflective highlights for visibility at night are a plus.
Phone clip stays in place: The Trainr Pro phone case has two small slots along the left and right side of the case that allows it to snap into the armband grip. I find it's usually easier to clip in the side you can see first before clipping in the opposite side. It takes a little practice to get the case securely in the clip (wait for the "pop"), but once it's in securely, the phone stays in place.
Cons:
Case is not waterproof: The phone case itself is not waterproof. It simply provides drop protection, but most phones nowadays provide some sort of built in water resistance, so it's not a big concern unless you end up in a downpour.
Key keeper on armband too small for most keys: The armband provides a slot to hold a car or home key, but the slot is rather small for most bulky keys. Keys that could fit in the slot were secure and did not fall out.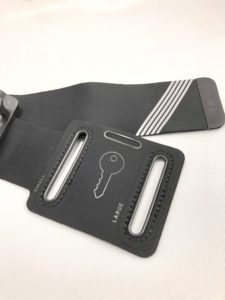 Can be difficult to clip phone in: As I mentioned earlier, the case can take some practice to place it in the armband clip securely. I found once I clipped the phone in the armband while I was wearing it, I wasn't confident it was secure until I tugged at it a couple of times. I found it easier to take the band off if I needed to operate my phone.
Armband comes in one color: I would have liked the armband and clip to match the color of the case. That's more of a nitpick on my behalf considering the quality of the armband.
Summary
Pros:
Sturdy protective case
Case come in multiple colors
Armband is snug
Phone clip stays in place
Cons:
Case is not waterproof
Key keeper to small for most keys
Can be difficult to clip phone in
Armband comes in one color
Conclusion
Personally I prefer to wear a waist pack to hold my phone and other accessories while I run, but if I were an armband wearer, the Bodyguardz Trainr Pro is a great choice. Once in a while I'll still slip my phone in the protective case for everyday use to show off a little Ragnar love.
I find a great combination in wearing the armband is using my Apple AirPods and my Apple Watch. This keeps me from taking the phone out of the grip while still being able to control my music.
The Bodyguardz Trainr Pro is available for iPhone 7, 8, and X series phones. The Ragnar series is a limited edition so be sure to get yours before they are gone!
(Disclaimer: This product was provided to me courtesy of Ragnar as part of their ambassador program. All opinions are my own)
Photo credit: Jesse Mendoza