My 2018 was a great year for running. My race finishes this year included a variety of smaller races, one full road marathon, four trail ultras, and one attempt at a 100 mile – the most ultras I've run in one year. I learned a lot.
Not only was getting the miles in important, but knowing what works and what doesn't is a critical part of any training plan. By the time you're ready to head out on your final big run a few weeks head of the Big Day, you should have things dialed in.
As they say: Nothing new on race day; practice makes perfect. Keep the element of surprise to a minimum and you may just come out on the good side of your race.
I had many opportunities to try new things this summer to make sure I had them dialed in for my goal race.
Here are a few of my favorites:
Tailwind Rebuild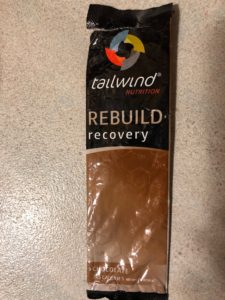 Recovery was pretty important to me after long runs that stretched to three hours or more. At times, I was running both Saturday and Sunday and wanted to make sure I felt good both after each workout and during the week as another training cycle started over.
I've been using Tailwind for my calorie and hydration needs for a couple of years now. I credit it for getting me through all of my ultras and runs that go over two hours without feeling hungry and to keep my energy up. When I heard Tailwind was introducing a recovery drink, I was pretty excited to try it out.
Tailwind Rebuild takes the science of proper recovery after hard workouts and puts it into a fine powder form that can be mixed with water. It comes in vanilla and chocolate flavors. I would take a packet of Rebuild in 16oz of water after my long runs and I can honestly say it works really well for me. It also helps to stave off that hungry feeling immediately after my run. It's become a staple in my gear bag.
Dislike: It's a really, really fine powder that can get everywhere if you're not careful!
---
Nathan Vaporkrar Waistpak
I must have gone through two or three different waist packs including selections from Naked Sports, Flipbelt, and others before choosing the Nathan VaporKrar WaistPak. It's a wonderfully minimalist waist pack with a step-through design that stays in place- something pretty important to me as I hate gear that bounces around while I run. Part of that stability comes from an elastic grippy strip that circles the inside of the belt.
It comes with one zippered pocket on the front that is large enough to hold my iPhone X (it can also fit a Plus size iPhone). There are expandable pockets on each side of the belt that secure using velcro for small essentials, and one large back pocket that can hold my nutrition or a light jacket. The belt can be adjusted to fit by pulling straps on each side of the belt.
Dislike: The soft 16oz soft bottle that comes with this belt is pretty terrible as the top leaks and is hard to secure, especially with sweaty hands. Also, there is no key clip to secure your keys. Really?
---
Salomon Sense Pro Tee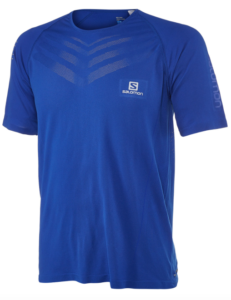 Sometimes you just happen upon that one piece of clothing that just works. I'd been looking for a top that I could wear while having my hydration vest on, especially considering how hot it was to have it on in the summer. The Salomon Sense Pro Tee fits the bill perfectly.
The Sense Pro Tee has that 'barely there' feel to it against my skin while being durable enough to handle moving through brush. I love its minimal feel and it dries quickly. I've come to like a lot of what Salomon has to offer and the Sense Pro Tee does not disappoint.
Dislike: Expensive. Also – discontinued.
---
SAXX Strike compression shorts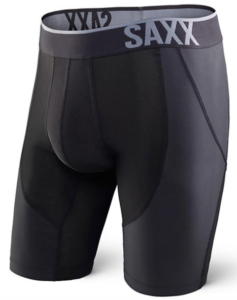 I've worn SAXX Kinetic series of runderwear while running for a number of years now and count on them to get me through long distances with no chafing. The SAXX Strike series is a compression short with the same "BallPark Pouch" design that SAXX is known for. The short is lightweight and its moisture-wicking properties are made for high output sports.
I can wear the Strike under shorts or on their own, which is my favorite way to wear them on hot summer days. The ThermoFlyte series is made for colder temperatures and is my go-to under my thermal tights in the winter.
Dislike: Expensive but well worth the investment.
---
Ultra aid station food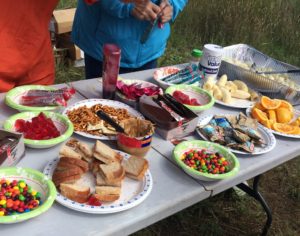 Up until the beginning of this year, I've always fueled with gels and some random power bar during my long runs. The bulk of my calories comes from Tailwind – in liquid form. Once I set a goal to train for my first 100 mile this year, I thought it would be best to practice eating real food at aid stations to see how my stomach would behave. I was pleasantly surprised.
My stomach handled aid station food really well during races. Quickly, I was able to find what worked and what didn't. I still can't do anything with chocolate, like M&M's, or really sweet stuff like Oreos. Everything else is fair game. During ultras this year, I really enjoyed cheese quesadillas, potatoes, bacon, oranges, watermelon, rice & beans… if it looks good at the time, I'll take it.
Dislike: Warm Coke or water. I found I really enjoy my drinks to be cold. The more ice (when available) the better. It's such a welcome treat after drinking warm fluids on hot, summer days during long runs.