If only.
If only I could have done this differently, or that.
If only I could have those agonizing two hours back suffering up high on that ridge in the early miles.
If only.
Distance: 90.7 (DNF)
Location: Sawbill
Elapsed Time: 33:40
On September 7 & 8th, I took on the monster that is the Superior Trail 100 mile ultra. An ultra that has staked its claim as one of the tougher 100 mile trail races in the country.
Rugged, Relentless and Remote
This ones no joke. Seriously.
This wasn't my first rodeo at the Superior Fall Trail Races. I attempted the 50 mile option back in 2016, but failed miserably by timing out at the mile 21 Sugarloaf aid station due to a timing error – mostly my fault and partly the fault of a GPS watch that failed without me noticing it. By then, it was too late.
The day the lottery opened on New Years day 2018, I thought, why not give the 50 mile another shot?
Then, as ultra runners do, I thought, well, if I'm going to try this lottery thing for the 50, why not just go big or go home? The idea to attempt my first 100 mile was born.
I hit the submit button.
In the days that followed, I received my notification that I was selected for the 100 mile.
It was on.
Twenty four weeks worth of training later and I'm standing at the starting line amongst an incredible group of people attempting this monster of a trail race. The energy was out of this world. I'll have 38 hours to traverse 103 miles of the Superior Hiking Trail from Gooseberry Falls State Park in Two Harbors, Minnesota, and ending in Lutsen, Minnesota.
I was comforted in seeing a few friends from my trail running group back home at the race – MUDD (McHenry Ultra Running Dudes and Dudettes).
I brought up with me an incredible crew. My girlfriend Patty would handle the ton of gear I brought, and I was lucky to bring up my friend (and fellow MUDD runner) Scott Laudick who would handle pacing duties. They worked so hard and I was blessed to have them along.
The weather. My god, the weather. We lucked out on a beautiful weekend with temperatures in the lower 60's early, and forecast for the middle 70's during the day. Little to no rain the week before promised us a clear trail ahead and low water crossings.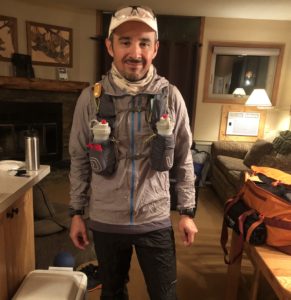 The Start: 8 a.m. Friday 9/7
We started out at a nice clip on the paved Gitchi-Gami State Trail running along beautiful Lake Superior. We made our way to the Superior Trail trail head just a couple of miles down. I was feeling pretty amazing and trying not to think too much of the task ahead.
Aid station to aid station. That was the plan.
For those not familiar with ultra marathons of this caliber, this particular 100 mile has 13 aid stations in between the start and finish lines, each between 5 and 10 miles apart. The aid stations are an oasis of all kinds of foods and drink to fuel up the runners as they come in. Along with their hard working volunteers, most aid stations allow crews and pacers, which follow their runners through the day and night helping them with refilling supplies, first aid, feeding them, and keeping them awake! Strict rules keep crews from helping runners to the extent that they are helping them to complete the race, such as carrying supplies for them, etc.
Race organizers set cutoff times for most aid stations and log runners times as they come in. Runners must arrive and leave the aid station before the cutoff time is reached or they are pulled from the race and not allowed to continue. Cutoffs are in place mostly for safety reasons to make sure all runners have been cleared from the trail and no one is left behind once the race is over.
First Aid Station Down
The hike to the Split Rock Aid Station at mile 9.7 came quicker than I expected it to. My initial plan was to bank some time early, as the cutoffs were tight early on, relaxed during the night hours, and then tightened back up after mile 60. I was in and out of Split Rock quickly and wondered if I had taken in enough calories as the next aid station was over 10 miles away. Still feeling good, I soldiered on.
Friendly Faces Await at Beaver Bay
Man, that was a long stretch. By this time I knew what I was dealing with: Rugged, Relentless, Remote.
Sounds about right.
River crossings, mud, rocks, roots, climbing boulders on all fours, and some of the most technical single track trail I have ever seen. Ever.
The wall of friendly faces approaching the Beaver Bay aid station at mile 20.1 was a welcome sight. I started to feel some fairly serious cramping on the inside of my thighs when I sat down to eat and to replace my bottles. I quietly wondered why I was experiencing some cramping so early. I didn't think too much of it. The sun was really starting to heat things up and we were just getting started.
The Cramping
The hike between the Beaver Bay aid station and Silver Bay at mile 25 was painful. Out of nowhere, my legs and feet began to cramp. Every few steps was a agonizing fight to get through the next stretch of trail or climb without falling on my face.
Little things started to annoy me like the taping on one of my feet coming undone and having to fix it (sorry Patty!). Needless to say this was one of a couple of lows – and we're only less that 25 miles in.
Once I reached the Silver Bay aid station at mile 25, Patty and Scott were both waiting for me. Up until now I'd been sipping on two bottles of Tailwind calorie drink and had just began taking salt tabs to ease the cramping. Scott had suggested I swap one bottle with cold water to see if it would help. This ended up being a game changer.
Up High and On a Low
I left the Silver Bay aid station a bit discouraged. I've rarely, if ever, experienced serious cramping this early in a run. The climb up the bluffs overlooking beautiful Bear Lake and Bean lake were agonizing. I stopped several times to gather myself, take a few pictures, all the while wasting some precious time. There were moments I risked falling while climbing down some of the steeper descents. I took it slow.

The fight continued to the Tettegouche aid station near mile 35. By the time I reached the aid station, the swap to water in one of my bottles as Scott recommended made a world of difference. I started to go to the bathroom again and felt much better as I reached the aid station. It was starting to get dark now.
The Night Time Hours
With the severe cramping pretty much over, I had a renewed sense of excitement going into the overnight hours. As I reached the County Rd. 6 aid station at mile 43, I would pick up Scott to keep me company through the night.
There is something magic about running trails at night. I thought I'd get a little intimidated running this trail in the dark, but just being inside of the "bubble" created by only my headlamp made things less scary. Having Scott along helped too.
The night hours through the morning flew by as Scott and I finally reached the Crosby Manitou aid station at mile 62.9. The sun was rising and I was wired on caffeine Tailwind, relieved to finally see daylight again. I was again solo for the next 9.4 mile stretch so that Scott could get some rest.
What lies beyond Sugarloaf?
During my 50 mile attempt here in 2016, I never made it past the Sugarloaf aid station at mile 72 (mile 21 for the 50 mile). This time I was determined to see what was beyond the aid station
The stretch to the Sugarloaf aid station was insane. It was just as difficult as I remember, but I had made it with about 45 minutes to spare before cutoff. My GPS watch had been dead since mile 40, so I was depending on a trusty Timex I had to keep time. A few choice words about the last section of trail to may crew while I ate and lubed things up and I was off again.
I finally get to see what lies beyond Sugarloaf.
Day Two and the Cutoffs Squeeze In
After being more relaxed in the over night hours, the cutoffs once again begin to tighten back up. I picked up Scott again at the Cramer Road aid station at mile 77.9. I'm tired, but still feeling pretty strong. I'm a bit too foggy to work out my average pace without my GPS watch which died over 30 miles ago. While approaching the Temperance River aid station at mile 85, I notice I'm getting closer and closer to its 4 p.m. cutoff, so I pick up the pace as the trail gets a bit more tame here.
As I hear the Temperance River aid station ahead I have to really hurry. Once Scott and I arrive, we're 30 minutes ahead of cutoff with no time to waste. I take in lots of food here quickly – everything I could stuff in my face – pancakes, potatoes, bacon, refill bottles and go, go, go.
It's 5.7 miles to the Sawbill aid station at mile 90.7 and I have about an hour to get there. I've been on the trail for a little over 32 hours now. It's close to 3:40 p.m. on Saturday. It's right around this time that I start to realize it's either going to be ridiculously close, or I don't make it in time. The realization was brought further home when Scott politely mentioned that I'd have to keep 15 minute miles to make it in time. I knew my pace wasn't even close, but I still kept it positive.
I had two options left: Get it done or go home. Period.
I took off.
Sawbill. So Close, yet so far.
The trail leaving the Temperance River aid station is flat and fast as it runs along the beautiful Temperance River. I knew what was at stake here, and I was at peace with whatever the result was going to be. With the trail as flat as it was in this section, I picked it up as fast as my legs would let me as Scott followed. The trail was easy in this section but not for long. As we moved quickly down the trail, we came to a wall of giant boulders – as big as houses – and rock falls that took all fours to get up and over. I lost the trail a couple of times, and at one point I asked Scott to lead as I was just too tired to find the trail on my own.
It was here at Carlton Peak near mile 88, crawling up rock faces on all fours, where I realized my race was over.
I was tired, yet hopeful. We continued to pass other 100 milers as we got closer to the aid station.
I could hear the aid station off in the distance, but as I looked down at my watch, I saw the 5:40 p.m. cutoff time come and go as we were still 5 to 10 minutes out from the station. As we pulled in, Patty was in tears, and I was happy but a bit reserved as a volunteer took off my bib and pulled me from the race.
I was done.
Post Race Thoughts
I'm at peace with what just happened.
I always have been.
Ever since I started on this journey, I set my expectations pretty high, but I was also quite aware that I'd never done anything like this before. I was ready for failure and I would be okay with that. I sort of knew what to expect going into it, but having never experienced a 100 miler first hand, I was up for the challenge.
Funny thing is, despite all of the suffering, I enjoyed every minute of it. Even better to have experienced it with friends who sacrificed time out of their busy lives to experience it with me.
I'm not done yet. Having completed 90.7 miles of one of the more difficult 100 mile trail ultras in the country, I've proven to myself that I can finish something like this. I'm eager for another chance at it, knowing that the distance is within my grasp. It's an amazing feeling.
For my amazing crew Patty and Scott – I don't how if I can ever repay you for all of your hard work. I couldn't have done it without you. You were the reason I made it as far as I did.
For now, I have zero regrets.
(Header photo at Split Rock by Tone Coughlin Photography LLC)