I'm not much of a video or photography expert, but I'd like to think I can tell a good photo or video when I see it. I like to take the time to shoot a decent photo for, say, my Instagram page because I'd like to be able to enjoy it a few years from now.
Lately, I've been on a quest to find the perfect hand-held stabilizer for my iPhone or GoPro for quite some time now. A stabilizer allows for shake-free video when you mount your iPhone or camera, such as a GoPro, to it.
I found most consumer grade stabilizers to be rather bulky or too big to carry in my bag or put in my pocket. It's been hard to find just the right one.
Seriously, look at that thing…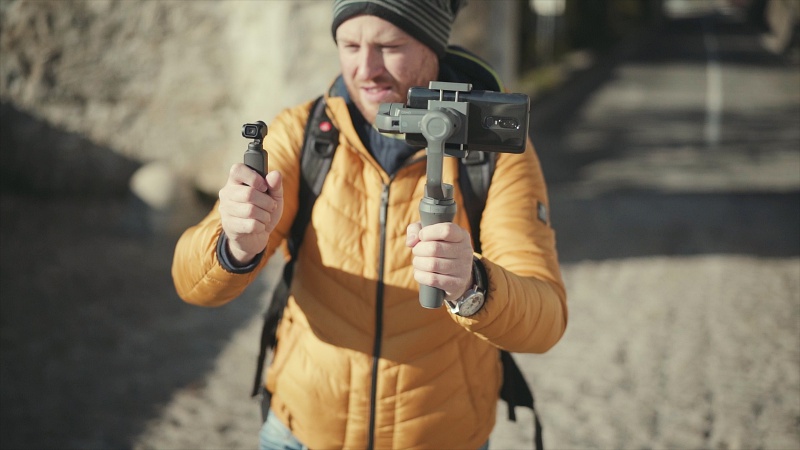 …that is until the DJI Osmo Pocket came along.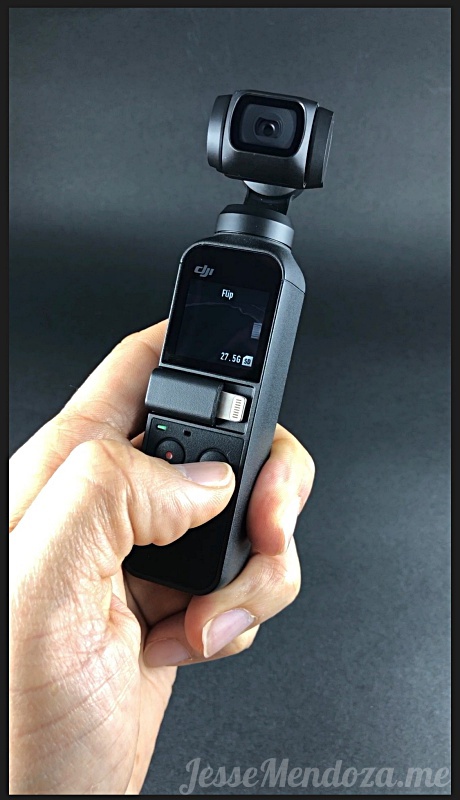 DJI is known world wide for their popular consumer drones that specialize in aerial photography. Just recently, they've managed to minimize their on-board stabilizing cameras to fit on pocket sized, foldable drones like the DJI Mavic Pro and DJI Spark.
With the introduction of the Osmo Pocket, they've managed to put that stabilization technology in a small package that fits in the palm of your hand. Literally.
Is it a game changer? I absolutely think so.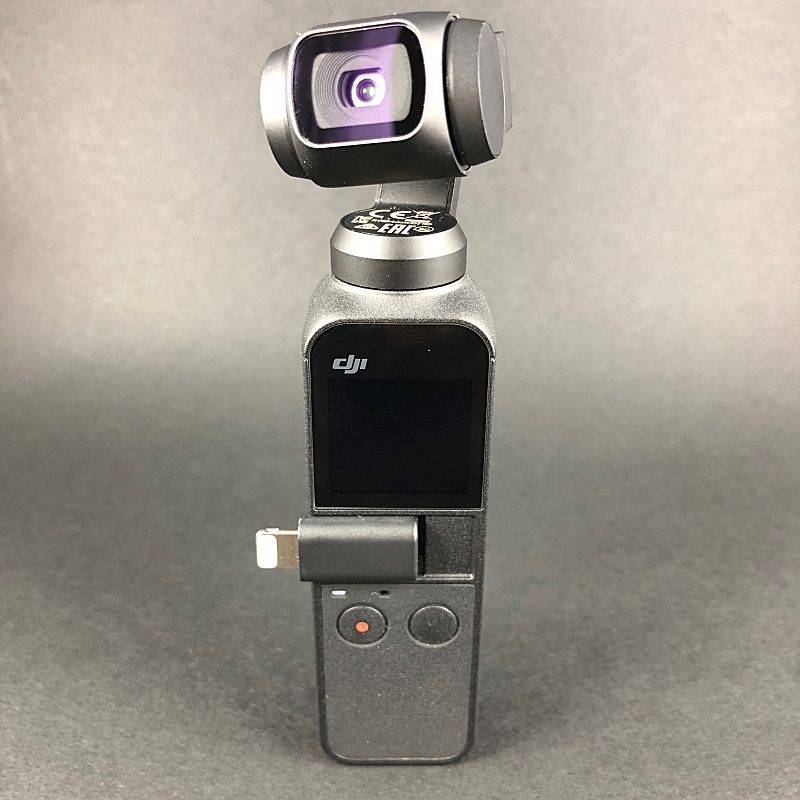 My current setup for shooting photos and video is an iPhone X and a GoPro Hero 6. I can usually get pretty stable video out of both of them, but the Osmo Pocket, with its onboard stabilizing gimbal, is on a whole different level.
As I mentioned earlier in this article, I'm not a professional photographer or video guy by any means, so for this review I'll cover the basics, and I'll leave it up to the experts to go through it in greater detail by linking up some useful YouTube videos below.
What's in the box:
Osmo Pocket camera
Carrying Case
Wrist strap
USB-C charging cable
Lightning adapter and USB-C adapter for phones
Manuals
Who is the Osmo Pocket for?
Folks who don't want a bulky stabilizer
Social Media live bloggers
Travelers
Family vacations
Adventure seekers
Anyone who wants smooth, professional looking video
Pros:
Fits in the palm of your hand
Current consumer grade stabilizers for phones and cameras are fairly large and can be cumbersome to carry around. The Pocket is small enough to fit in the palm of my hand. The casing is rubberized on one side, and has just enough grip to keep a hold of it.
It's easy enough to slip the camera into its case and slip it in my pocket, whereas a larger stabilizer may require a separate backpack to carry around. The on-board screen is touch sensitive and allows access to all of the controls while being able to view what I'm shooting.
The battery is in the handle
The Pocket has a non-removable battery which makes up part of the handle. Not having a replaceable battery scores as a Pro for me, but I'd have to carry around a portable charger for extra juice when I need it. I haven't had to throw it on the charger much since I've been using it, but that may change over time.
Quick boot up time
The Pocket takes about 5 seconds to go from completely off to on and ready to shoot as the gimbal calibrates and centers itself. Unlike larger stabilizers where you have to take the time to mount your camera, the Pocket is ready to point and shoot almost immediately. A triple click of the right button flips the camera to selfie mode and Face Detection centers on your face.
Multiple shooting modes
There is a full menu of shooting modes accessible from the cameras viewable screen. The full list of modes includes:
Photo mode with count down timers
1080P and 4K Video at 4K/25, 30, 50, 60FPS
Slow Motion
Time Lapse and Motion Lapse modes
Panorama at 180 degrees (extra wide) and 3×3 stitch option (square)
Choosing a new mode is as simple as flicking through the menu options using the small touchscreen on the front. The Pocket remembers the last setting when the unit is switched off and back on again.
The still panoramas have been a favorite of mine:

Microphone works surprisingly well
The Pocket has two on-board microphones: one at the front underneath the buttons, and another on the bottom next to the USB-C charging port. They are really small and I found myself covering them with my hand at times. I'd like to see an accessory mic that can plug into the port at the bottom of the unit. All in all, I was very impressed with how well it captured my voice while speaking.
DJI Mimo app for phones adds a larger view screen and media management
When you connect the Osmo Pocket to your phone, it automatically launches the DJI Mimo app, which allows for more control over filming and taking photos. Having the phone connected also serves as a larger view finder, instead of having to depend on the tiny screen. The app also allows you to manage your content, such as downloading the video and photos to your phone, however you still can't edit any of the content using the app. Yet.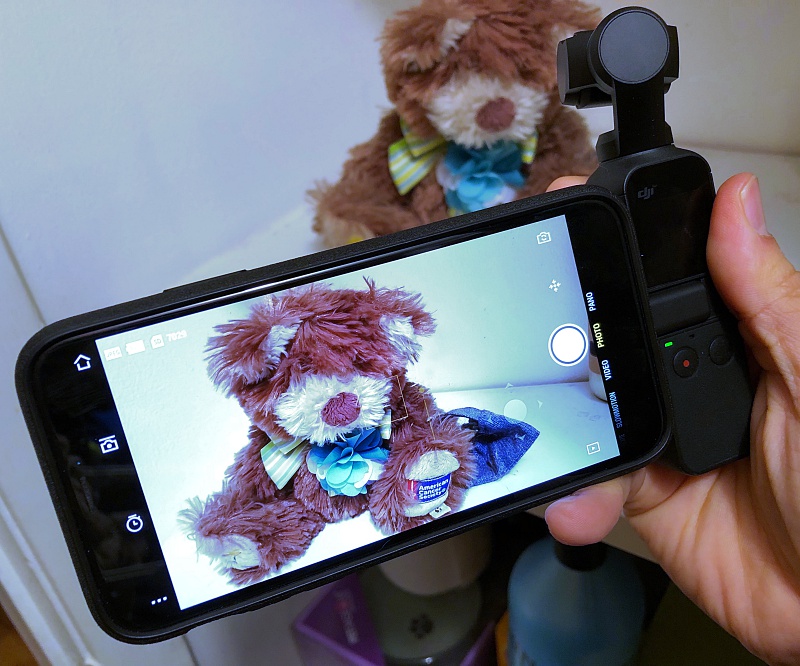 Cons
Necessary accessories not included
It's too bad DJI didn't include some of the more critical accessories with the Pocket, deciding instead to sell them separately through their online store. I would have liked for them to include the mounting accessory, which allows you to mount the Osmo on a GoPro mount or selfie stick. Instead, the mount sells for $19 on the DJI website.
Other accessories available for purchase include extra smartphone adapters, a wireless module (the Pocket is not wireless), and a waterproof case. Lastly, no SD memory card is included, so you'll have to buy one before using the camera.
It's not waterproof
The Osmo Pocket is not waterproof like the GoPro, so you have to be careful where you take this thing. It's not an adventure camera, per say, but it seems to be built rather well and can take a beating. The gimbal seems really fragile to me, so I'm careful to keep it in its case when I'm not using it. DJI does provide a waterproof casing for it, but again, you have to purchase it separately. Bummer!
Included wrist strap attaches to the case and not camera
A wrist strap is included in the box, but it attaches to the case and not the Pocket itself. This has to be one of the silliest design decisions I've come across! It's just really dumb. The camera is so small, that it's pretty easy to lose hold of it if you're not careful. Having the wrist strap tie directly on the camera makes the most sense.
Unable to edit content in DJI Mimo app
The companion DJI Mimo app for the phone doesn't allow you to edit any of your content, so I'm having to download them to my phone first and edit them later. Perhaps they'll include this in a future update, but the media is not quite ready to upload to social media right out of the unit. Broadcasting live to Instagram or Facebook Live would have been a huge plus.
No way to mount Osmo on a selfie stick or camera stand
As I mentioned earlier, DJI does not include a mount for the camera in the box. It would be nice to be able to mount this on a selfie stick or one of the many GoPro mounts I have laying around. Fortunately, many 3rd party product manufacturers have come up with some interesting designs to solve that issue.
Some folks have even created their own 3D printed designs: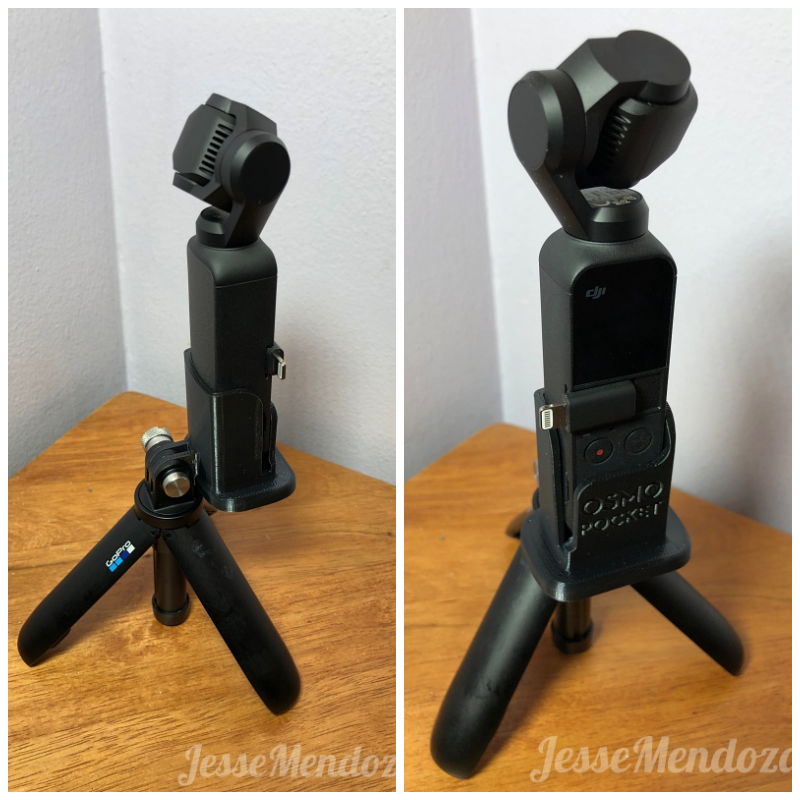 It's pricey
The DJI Osmo Pocket retails for $349.00. It's not cheap and only $50 dollars less than the GoPro Hero 7. Add an SD Card (it doesn't come in the box) and a few accessories (that should have come in the box), and you're looking at closer to $500.00. The larger DJI Osmo Mobile 2 stabilizer for phones is only $135, but you sacrifice size for a less expensive option. You be the judge.
My Favorite YouTube Videos featuring the Osmo Pocket:
And here's my video review while on a local trail run:
Summary
I've had a lot of fun with this camera! Being able to film video without the jitters just makes everything look so much better. I'm looking forward to taking it on some more running adventures or while traveling.
DJI has done a great job in making the Osmo Pocket ready to go out of the box, especially for photog newbies like me. It suits me better than carrying around a GoPro, since I'm not racing motorcycles, jumping off cliffs, or parachuting out of airplanes with one strapped to my head.
I'll still use my GoPro for the more gnarly stuff (i.e. around water…), but it's been nice just popping the Osmo Pocket in my… pocket and whipping it out to capture some smooth memories on the go.
It's going to be fun to watch where DJI takes this next.
Have any questions on the Osmo Pocket? I'd be happy to answer them. Just leave a comment below, or subscribe to know when new posts go up by using the contact form in the right column!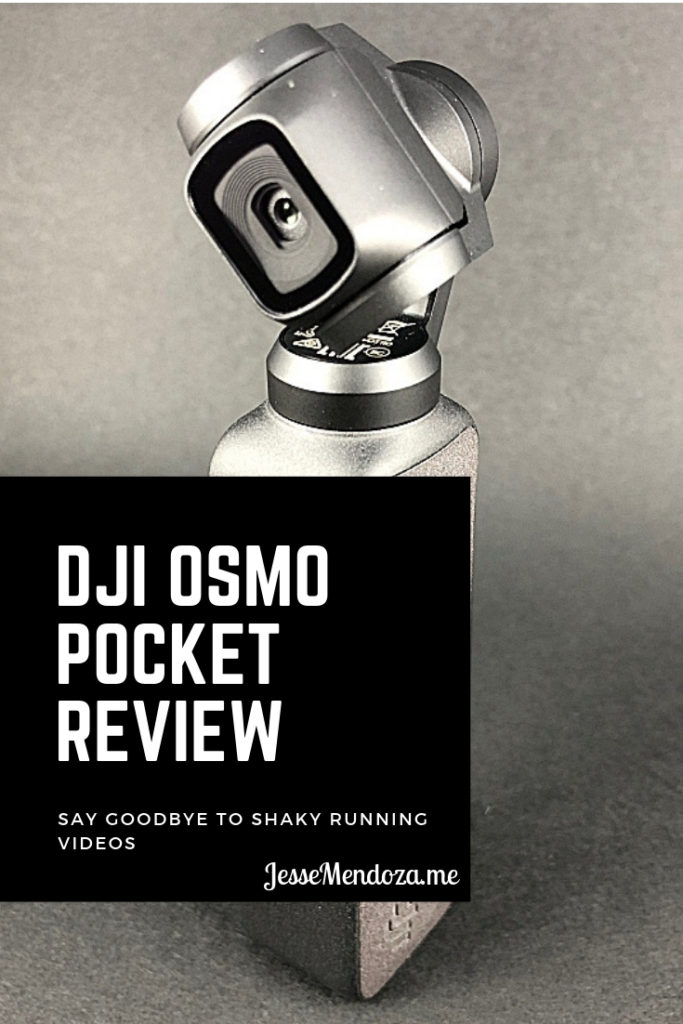 This posts contains affiliate links. Check out my disclosure policy for the deets. All photos are my own unless specified.